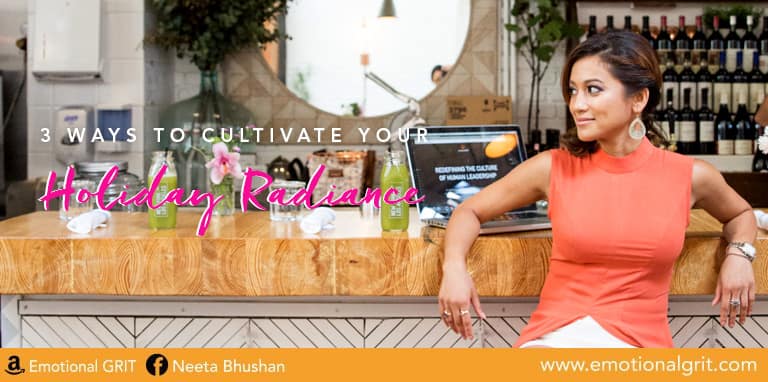 26 Dec

3 Ways To Cultivate Your Holiday Radiance

1. Slow down to truly connect with your loved ones and colleagues. Especially during a time of busyness, full of festivities, and balancing them with our daily duties. As fun as the holidays are, they can also be stressful on many levels. Emotional G.R.I.T. will provide you with tools to stabilize yourself in your own energy. When we are inwardly empowered, we can be there for others. Create connections. Listen. Create space in your day to be more present and not rush.

2. Cultivate your glow. Happiness is a choice. Stay positive and optimistic are totally achievable when you have emotional intelligence. Optimism is committing to working towards the best possible outcome, moving through life with ease. Take extra good care of yourself so you can SHARE light and BE the light.

3. Congratulate yourself! We have all done so much good work and transformation. Practice GRATITUDE. Journal your 2016 highlights and achievements.

Spread the LOVE. Share the KNOWLEDGE and GIVE the gift of empowerment. Let us take you on this journey of healing and wonder, connecting you deeply and forever with your radiant self. Purchase your copy today and give the gift of LIGHT!