Boundless is the most empowering, all encompassing breakthrough course to heal and transform all aspects of your life
---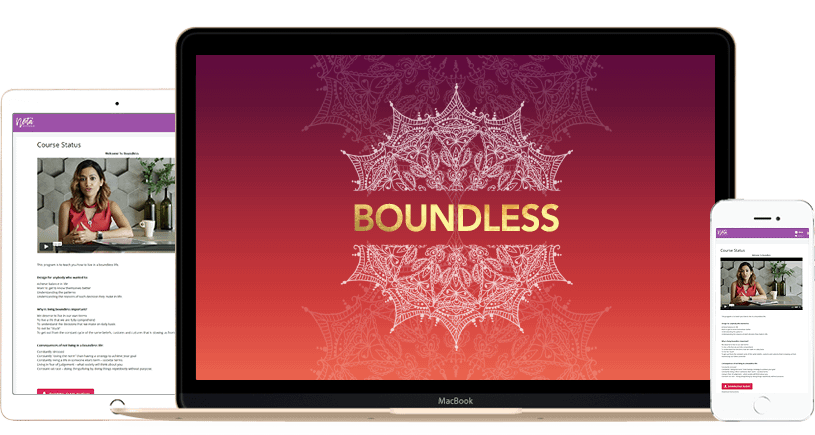 ---
'Boundless' is the most empowering, all encompassing breakthrough course that taps into all aspects of your life. Its flexibility can be adapted to support you wherever you are in life. You don't need to go through it from end to end in sequential order.
With the complete toolkit to transform the 29 patterns of life, you'll be able to zoom in on any of the 6 areas of life you're stuck in now: Personal, Relationship, Health Professional, Spiritual or Emotional.
Since the patterns can affect multiple areas of life at the same, just transforming one root pattern can in fact create fast transformation across multiple areas of life at once.
Imagine how much time and money this can save you.
If you were to invest in a book or a course or a seminar for each sphere of life — one for relationships, one for health, one for career or business and so on — you can easily dial up a figure of hundreds and even thousands, as well as burn months into study before experiencing results.
Additionally, if you were to individually study each area of expertise that 'Boundless' draws upon — positive psychology, emotional intelligence, relationship dynamics, ancient spiritual philosophies, the study of 14 of the world's leading personal development coaches and authors…
Or trek the globe as I did, studying from cognitive behavior specialists and researchers in Germany, Switzerland and Japan; Shamans in the remote villages of Ecuador and Peru; psychedelic gurus on addiction healing in Santa Cruz, California; Ashrams in Bali, Indonesia; and breathwork and chakra balancing experts in the different regions of India….
Well… your cost could easily reach into the 5 to 6 figure range, not to mention years of your life spent studying.
Today, accessing the same information and best of tools from ALL these resources doesn't have to take you years of research and study nor cost you $100,000. It won't even cost you $10,000, which is 10% of that. Not even $1,000.
Yes, that's right not even 1% of what it could cost if you embarked on gathering this information on your own.
'Boundless' is being offered at the incredible value of $597, giving you the most flexible, adaptable and timeless personal development course that becomes your toolkit for life.
To top it off, this small investment of incredible value is risk-free.