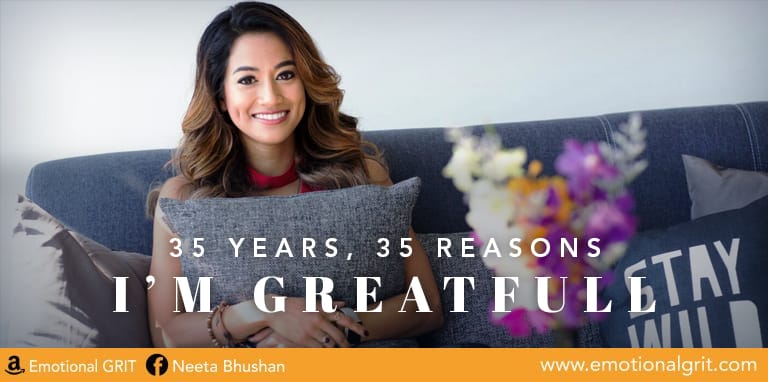 05 Jul

Embracing 35 & 35 reasons to be greatFULL

Welcoming 35, and all the reasons to be greatFULL

1. I'm greatFULL I was born as multi-cultural pinay-indian, flip-desi, multiracial, and among 3 different faiths.

2. I'm greatFULL to my momma for holding me in her tummy long enough, to get to the hospital over 4th of July weekend, even though I was 6.5 weeks early and supposed to be a LEO.

3. I'm greatFULL for my incredible brother Vinay, who has always been by my side- yet opposites on a full spectrum, and geographically on a map =). Love you, and proud of you who continue to grow into Vin.

4. I'm greatFULL for my curious cat-like essence that has never stopped questioning, and has allowed me to reinvent myself continuously. #likeaboss

5. I'm greatFULL for the losses I've experienced, that through losing my immediate family, I've experienced the souls of my parents & Dj's love through my global family in every single part of the world.

6. I'm greatFULL for all of the angels & challengers that have seamlessly come into my life for guidance, cadence, shaping me into the ladyboss I am today.

7. I'm greatFULL for my ex-husband. Without him, I would've never grown into the woman I am.

8. I'm greatFULL for the seasons of adversity & lessons of resilience- as this has become my life's work in shaping real leaders + ladybosses to embrace their emotional health + grit.

9. I'm greatFULL that my soul was born in this skin, through this fleshy body, and with this face to connect, lessen barriers, and shine light with others across the globe, seamlessly.

10. I'm greatFULL I get to encounter and get inspired countlessly with the humans I meet and get to serve every single day.

11. I'm greatFULL for the countless messages, & emails I receive daily about speaking up, speaking out, and sharing their story- especially from my Asian & South Asian females, this is for you to be brave, bold, and fucking unapologetic. #nomoreperfectdaughters

12. I'm so greatFULL for my pack of Filipino-Indian lionesses I was raised with, my Bua, my aunts, grandmother & godmother- we've butted heads on various occasions but you've taught me how much work needs to be done for this generation and shattering 'loge kya khange' (translation: what will people say).

13. I'm greatFULL I became a perfect daughter: head of a household, raised my brother, became a dentist, got married and fought to be a 'good Indian-Filipino' girl to understand- F U C K perfection & E M B R A C E your story.

14. I'm greatFULL I was born & raised in the US- Chi-town, (Chicago) the city of grit, the melting pot of love, and the mid-west hospitality of Gold- thinking & wishing I was half-Mexican to fit into my public school friends' circles. #truth

15. I'm greatFULL for my multi-cultural extended Filipino-Indian family where I embrace my Pansit, Halo-Halo, Piano competitions, ballet, bhangra practice, and strolling on Devon St (shout-out Chicago), windows down- with the Bollywood tunes blaring, as an ABCD.

16. I'm greatFULL that despite being an orphan at 19, I made my first million at 29, mustered the courage to get divorced, finally realized money isn't everything- your spirit, your joy, and your freedom to choose is P R I C E L E S S.

17. I'm greatFULL for my deepest valleys, & darkest days to appreciate my highest peaks, falling deeply in love with me: my desires, my wants, my needs, and my self-acceptance. #selfLOVEnotSelfFISH

18. I'm greatFULL to witness many family members and loved ones pass through cancer, to realize the state of EMOTIONS + your WELL BEING + your EMOTIONAL RESILIENCE is my greatest gift in this lifetime.

19. I'm greatFULL to have traveled to 51 countries to experience humans, deep connection, spiritual healing, altered states, leadership in various sectors, and a life well lived.

20. I'm greatFULL for my baby: my best-selling book, Emotional GRIT, that is revolutionizing education, corporations, & the way we shape our minds with a little more EQ that is NOT taught in school.

21. I'm greatFULL that I have ummazzing girlfriends who inspire me, who I get to inspire- who pick up where you leave off, who are just as committed and crazy in making a dent in the universe with you, with tons of play, sass, humor, sexy-delicious supportive love. Making be better human #alldayeveryday

22. I'm greatFULL to have been able to experience deep diving 100 ft in the Blue Hole of Belize, to the shipwreck in Bali, to Dawin's Galapagos Islands, to remote Sipadan Brunei, & the Red Sea of Egypt because my kids may not be able to. #saveouroceans

23. I'm greatFULL that finally, I'm able to ride a scooter. Thank you, Myanmar. #revupdemengines

24. I'm greatFULL for my team that allows me to serve from the remotest parts of the world, that love my kick-ass jokes, inspire me to be boundless & forgive me when I may fall short.

25. I'm greatFULL that I get to work with some of the most AMAZING clients around this world with some swanky brilliance. You have taught me that insecurity is only an emotion, your negative self-talk is only a process, and there needs to be more of YOU in this world. Honored to play a role in your lives.

26. I'm greatFULL to create a global community where ladies get to be audaciously boundless, in their quest, in their decisions, creating boundaries & non-negotiables for themselves. #nomoreperfectdaughters #whoruntheworld #girls

27. I'm greatFULL for my teachers, my healers, my advisors, and my coaches. For challenging me, for cracking me open, for lifting my weight, and for always pushing the balance between being & becoming.

28. I'm greatFULL for this epic journey of grace around the world as a nomad, in the past 2 years across 4 continents to better understand humanity & incorporate into a #foreverstudent lifestyle.

29. I'm greatFULL that community has been my source of strength, growth, love, and massive connection. Afest, Mindvalley, MindvalleyU, Burning Man, Momentum, & DWDers. My home, my heart & what you inspire me to be is endless. #realtalk

30. I'm greatFULL to have experienced many different experiences of healing & nontraditional, non-westernized medicine through plants & psychedelics. Holistic healing, plant medicine, and expanded altered state experiences have shown me how powerful transformation can be and where our capacities lie in advancing our humanity & and mystic wonders of our soul.

31. I'm greatFULL for my appetite in exploration, diving into sexuality in different seasons of relationships to lead me to my love, & dynamic partner in life, Ajit.

32. I'm beyond greatFULL for working endlessly on myself through to lead me to this beautiful human. Every day I get to Work. Play. Slay with my biggest cheerleader, co-conspirer of transformation & worldly shenanigans. You have many different faces and have added balance & depth- realizing YES, I get to do life with you!

33. I'm greatFULL to my solid rocks: Mama Chita, I salute you. You're not here physically, but know the spirit is celebrated & your legacy of ladyboss empowerment is happening. Oh, Bua & Uncle Glenn. My greatest champions, I'm beyond blessed to have you cheering in my corner, as your renegade maverick that doesn't give two shits… I only cherish our time of added higher growth & experiences into our family (and yes you love me for it). You both hold the keys to youth, and I'm thankful to be your 'kiddo'.

34. I'm greatFULL, that every single day I get to choose this life, architect this playground, and dance in the fullness of the present.

35. I'm greatFULL that I was born on this day, super honored to share paths, moments of inspiration, nuggets of love as a nurturing love-bubble cancerian with each of you. My greatest joy is to share and celebrate this dance around the sun, thank you universe. Happy dance for 35 years of this adventure.

Muah, xox, I love you.