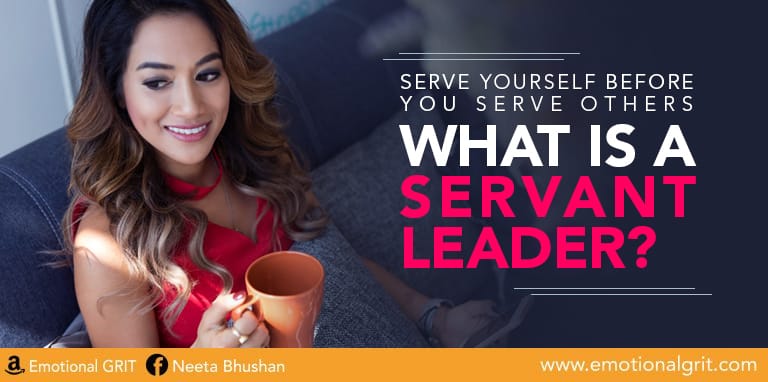 07 Jun

Serve Yourself Before You Serve Others – What is a servant leader?

Ladies, this one is particularly for you…As women, we often put others first. We want to make sure that everyone around us is happy and healthy – we are mothers, daughters, sisters, and wives. We are the caregivers, we create a safe and loving home, we build communities and we nourish others. We are the givers, we are the leaders of the households. We often don't stop to think what we can do for ourselves. Here's the challenge – when knowing that when we are good to ourselves, nourish our mind, bodies, and souls, we are the best version of ourselves. We know that we can be more productive and present in our daily lives. We are emotionally intelligent beings and when we learn how to use emotional strength in our everyday lives, we can better serve ourselves and others.

The first step is being mindful of your emotional health in your relationships with others and the relationship you have with yourself. This may result in difficult conversations in the beginning but stay true to your authentic self, set boundaries and lead with compassion. When taking care of yourself first, make sure to stay centered and grounded by making a mind, body and soul connection. When we are grounded, we are able to have more clarity and make better decisions. When you put yourself first, you are able to make a BIGGER impact on your community. This is different than being selfish – think beyond YOU. You want to make sure that you are being taken care of so that you can take care of others. Through emotional the intelligence, we learn that it is important to be in good shape mentally, physically, emotionally and spiritually. With the mind, body and spirit connection, we can serve others while at the same time let our voices be heard and shine our light bright to prosper. You will begin to see a shift in your life that allows you to grow personally and professionally. It can be a simple act such as holding the door for another person, smiling at a stranger walking down the street or setting up the time to do volunteer work. It's such a good feeling to know that you are able to share your abundance with others.
5 Secrets of Servant Leadership:
1. We are able to accomplish much more when we are inspired by others or a purpose much larger than ourselves.
2. Creating a compassionate relationship with oneself. We are not perfect and often make mistakes but it's how we let those moments be lessons without judgment.
3. Act as a selfless guide. Offer mentorship and guidance to others – friends, family, and colleagues. Open yourself up to be there for others.
4. Demonstrate accountability. Hold yourself up to your actions. Make yourself reliable, dependable and available to others while keeping your boundaries.
5. Develop other leaders. Encourage others to lead and mentor others. Build others up to be the best versions of themselves too!